Threads, Meta's ephemeral messaging app for close friends, has been struggling to gain traction. In an effort to boost engagement, the company is adding new features, including voice posts, a desktop app, and hashtag support.
Voice posts will allow users to send audio messages to their friends. This could be a popular feature, as it is a more personal way to communicate. The desktop app will make it easier for users to access Threads from their computers. Hashtag support will allow users to find and follow Threads about topics they are interested in.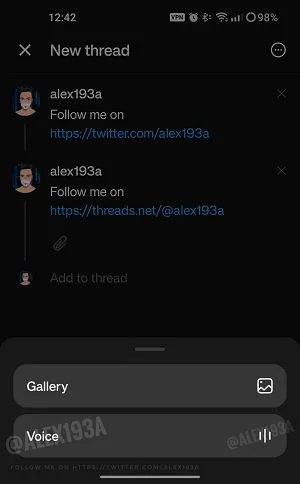 As you can see in this example shared by app researcher Alessandro Paluzzi, Threads users will soon be able to add a voice clip to their posts, in addition to images and videos. This will allow users to share their thoughts and feelings in a more personal and expressive way.
Threads, Meta's text-based app, had a massive debut in July 2023, with millions of users signing up. However, the app's usage has since declined significantly. As of August 2023, Threads has only 576,000 active users, a drop of 79% from its peak.
There are a few reasons for Threads's decline. First, the app is limited in terms of features. It does not have many of the same features as Twitter, such as the ability to retweet, quote tweets, or add polls. Second, Threads is not as widely known as Twitter. Many people are not aware of the app or its features.
However, there are still some reasons to be optimistic about Threads. First, the app has strong engagement. Users who do use Threads are spending a lot of time on the app. Second, Threads is appealing to a specific audience: journalists and other high-profile users who have been alienated by Elon Musk's ownership of Twitter. If Threads can continue to appeal to this audience, it could still be a successful app.
In the long term, Threads success will depend on whether it can add more features and become more widely known. If Meta can address these challenges, Threads could still be a viable Twitter alternative.