The competitive job market today requires you to be ahead of the curve if you want to get a good job, or if you want to progress further in your career in any meaningful way. One surefire way to do that is by learning new skills and mastering your existing ones.

Many colleges and universities offer skill development courses. You can also easily find them online. If you are just starting out, try looking for a course with minimum eligibility requirements so you can kickstart your career guilt-free.
You need to master both hard and soft skills. Hard skills are knowledge-based, whereas soft skills are related to how you work and are more about you as a person than your technical skills.
Skill Development Courses mostly focus on hard skills as they are more quantifiable and easy to teach and learn.
Online skill development courses can be taken by housewives looking for an extra source of income, or students who are trying to upskill themselves. skill development courses online,
There are many skill development course centers in India and around the world. You can also find these courses online.
The 10 Best skill development courses that you can take are: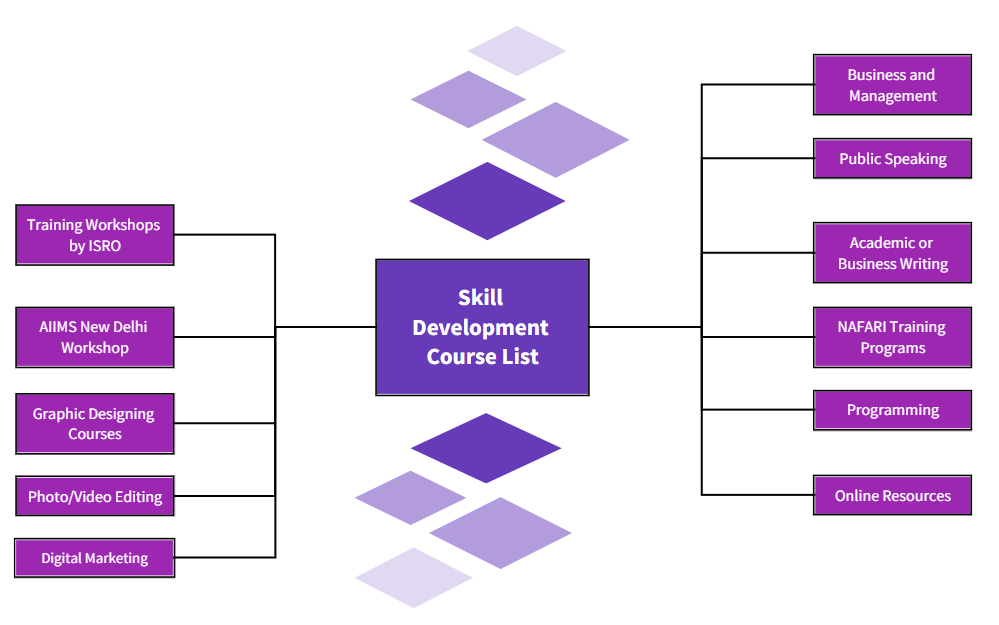 1. Training Workshops by ISRO
ISRO offers skill development courses in the field of Science. These courses cover a vast range of subjects including Astronomy, Astrophysics, and Mathematical Modeling
2. AIIMS New Delhi Workshop
Medical Aspirants and professionals can benefit from the courses offered by AIIMS and a number of other respectable medical institutions. These skills cover a wide variety of disciplines and are useful for any and all medical personnel.
3. Graphic Designing Courses
Digital Art is a very relevant skill in today's digital-centric world. Many companies hire graphic designers to design and re-design their logos,presentations, social posts, posters, and other marketing creatives. Many prestigious institutes offer specialized courses in this field, like Pearl Academy.
4. Photo/Video Editing
As important as it is to have good content, enriching your content with engaging photos and videos is equally important. Editing requires little to no previous experience to jump in and learn. There are many courses available online. It is also taught professionally in many institutes.
5. Digital Marketing
With most of the world shifting towards a digital future, Digital Marketing has become one of the most in-demand skills in the market. You can find comprehensive courses teaching everything from the basics to advanced techniques and strategies online.
We offer a dynamic digital marketing course with guaranteed practical exposure via live projects.
6. Business and Management
Covering a vast range of topics in the entire management philosophy, these skill development courses focus on specific topics and can be mastered in a few days or weeks. These skill development courses can also lead to in-demand jobs in these markets.
7. Public Speaking
If you consider yourself a good speaker and believe that Public Speaking is something you want to pursue, doing a skill development course in it will train you perfectly to pursue it professionally. You will learn how to hone your speaking skills in the best possible way.
8. Academic or Business Writing
Writing is an evergreen skill, and developing that in a professional manner will help you develop it to specifically cater to the business needs of many companies. Writing is a skill that is always in demand so make sure you develop them to the best of your abilities.
9. NAFARI Training Programs
The National Agricultural and Food Analysis and Research Institute, has a training program that has skill development courses in the field of Food Analysis and Agriculture. They cover many subjects like Food Microbiology and Chemical and Microbiology Analysis of Food and Water. These courses are perfect for pursuing a career in the field of Agriculture.
10. Programming
Coders are always in demand. You can easily learn various programming languages from scratch. This skill will be in demand for a long time.
Online Skill Development Course Platforms
Coursera
Udemy
SkillShare
National Skill Development Corporation (NSDC)
eSkill India by NSDC
Google Digital Workshop
Khan Academy
Upskilling is the key to building and progressing in your career. You can't possibly expect to reach your goals if you aren't willing to learn new skills and expand your knowledge base.
But, are you ready to invest in yourself? The choice is ultimately yours.