Digital Marketing is also like any other skill you can acquire, and just like any other skill, it can be improved. So how do you go about improving your digital marketing skills? You look in the place where you are going to be implementing most of your digital marketing skills; And the answer is Internet.
The Internet, a truly vast place with the answers to many things, including tips to improve digital marketing. The internet here can help us in acquiring and practicing many subsidiary skills that combined with your digital marketing knowledge will make you the best digital marketer around.
So let us take a look at some of the most important skills for digital marketing.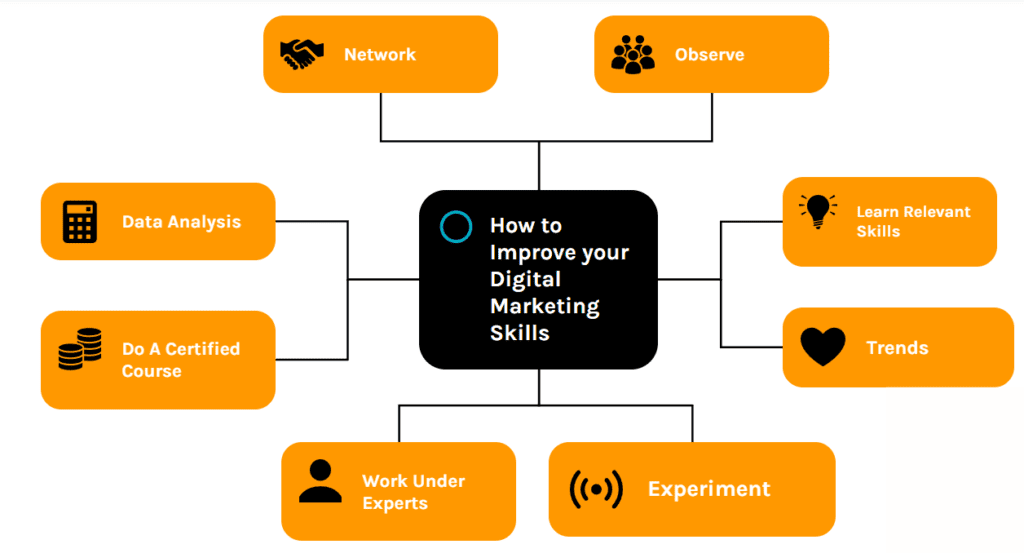 Observe
To truly understand something, you need to observe and learn about it first, and that is what we should do in terms of improving digital marketing skills too. Observe what the successful pages and people are doing in regards to their own marketing to see what works and what does not. Are they using SEO, Moment Marketing, Hashtags and what else? The more you observe, the more you will understand how to improve your marketing skills.
Learn Relevant Skills
To help in your journey to be a good digital marketer, you will need to learn a variety of skills. Be it content creation, video editing, digital art or more. A good marketer must know at least the basics of the skills they are trying to implement in their own marketing. Once you know the basics, you will be in a much better position to judge how to better use the many tools at your disposal.
Trends
One of the most important parts of being a good marketer is being updated with the latest trends and happenings in the industry you are in. Not being updated with the latest trends can make your marketing efforts fail to do what you need. To stay updated, simply follow the industry leaders and the trendsetters in your domain and stay updated on their doings and development.
Experiment
It is not the easiest thing to do in the digital world, as every post can get a different reaction based on who posted in and the context, but nevertheless you should always try to experiment. You will never know what might click with your audience until you try out different things with them. For extra help, try and create a personal project page that you can experiment with in your domain of interest so you have a safe space to try out things with no lasting consequences to your main project.
Do A Certified Course
Apart from the certification boosting your CV and marking you as a certified expert in the course, a detailed and good course on Digital marketing can teach you things that are not possible by simple reading and researching. A course will teach you how to best put your existing knowledge to the best use and also make sure that you gain the other relevant skills you lack to turn you into a successful digital marketing professional.
Work Under Experts
Is digital marketing a high income skill? You'll need to be an expert, and to do that,nothing beats the raw experience of working under an experienced professional in their field of expertise. Digital marketing is no different. Working under an experienced professional in this field will let you know and observe the process of their thinking from a close perspective and they will be able to teach you exactly what you need. The work will also show you how to structure your work if you do not know how to and will be a lot of help for when you finally start working on your own. There is no substitute for raw experience.
Data Analysis
Understanding Data will be a big part of your digital marketing life, as the result of most of your work will be changes in data presented to you. Understanding data in an effective way will help you make the most of your own work as you will be able to tell what is happening with utmost accuracy. Data Literacy is definitely one of the major skills you will need to make the right decisions, especially when you start working with bigger companies with many different factors to take into account.
Network
As with many other jobs, networking is a big part of your job in digital marketing. If you network in the right way, it can lead to many opportunities in life, including job offers, learning opportunities and more. Granted it does not directly relate to your efficiency as a digital marketer, Networking is still a very important skill to have as it will help you go far in your career, and in life.
So, we have seen some good ways to help you improve your digital marketing skills, but it is not an exhaustive list and with enough experimentation and research, you might find more things too!
But until then, turn your head online and take another look at the internet to see what it can provide for you, most importantly filling the relevant skill gaps and getting the certified course.
To learn more about digital marketing, you can check out Savvytree Digital marketing training and internship programme, it is a comprehensive course that will teach you all about what skills are needed for digital marketing.