No matter what stage of business you're at, you'll only perform if you're deploying efforts on your branding. Branding dictates how you'll be perceived by your customers, community, and competition.
No idea what you need to do and where you can start? Don't worry. In this post, we will cover:
What is branding?
What are the rules and elements of branding?
What is brand identity?
How can you position your brand in the market?
Building a decent brand image takes time and maintaining it takes consistent effort. It's something you can only accomplish with a list approach. Branding is an abstract concept and you've got to approach it subtly.
But if you've just started to think about branding and you don't know a lot, don't worry we'll cover both what branding is and some strategies that'll help you get started with it. No matter how big or small your business is, it is definitely worth trying these methods.
What Is Branding? Why Does It Matter?
Branding involves creating an identity for your business that helps your target audience distinguish your brand from your competitors. A bare minimum branding consists of the brand's logo, visual design, color palette, and tone of voice. However, the quality of your products, service, and pricing also is a part of your branding.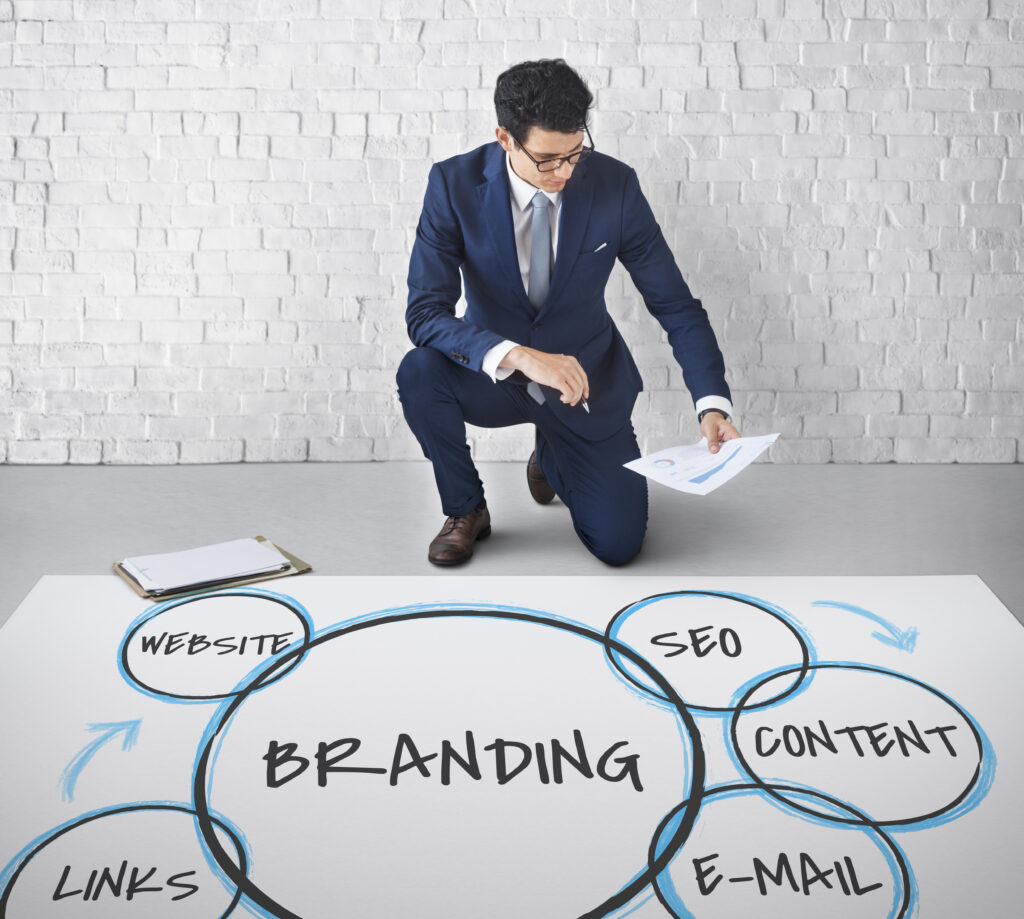 So, building a website that features your offerings, deciding on brand colors, creating a logo, and settling on the tone of your brand can be good places to start. And even if you already have these things figured out, you may want to review them to make sure that they are in sync with the vision and message of your company across all platforms and customer touch points.
Lastly, pay attention to what customers have to say about your brand or service because that will give you a clear picture of if your current branding strategy is working.
Why Should You Take Branding Seriously?
Almost every business owner gets started with the aim to provide quality products and services to its customers and aspires to build a trustworthy relationship with its customers. Branding works towards helping you out with building a unique identity that is easily distinguished by your customers. Moreover, at the same time, it is also about effectively positioning your brand in a way that not only highlights your USPs (unique selling proposition) but also all the ways you communicate with your audience about what you stand for.
Building a healthy brand image requires synchronicity in what you say, what you portray, and how you eventually act.
For this to happen, you've got to be very clear about what is your brand's vision, mission, purpose, guidelines, and what kind of tone you'd like to set in with your customers.
Benefits Of Branding: Perks Of Creating A Powerful Brand
Even when you are doing nothing, your brand's image is still being formed. Now that you what is branding, working on branding has some cool benefits that might genuinely encourage you to take this stuff seriously.

Some of the benefits of branding are:
Spike in sales
Increased brand awareness and custom loyalty
Motivate the cream crowd to become associated with you
Helping you stand out
Building a strong and constructive company culture
Keep in mind that it takes a decent time from anywhere between 6 months to 3 years for you to start seeing results. But if you're doing it right, it'll all feel worth it then.
The Branding Process: How To Make A Brand?
Having clear brand guidelines is the most fundamental step towards branding and it sets the tone for the process ahead as well, so make sure that you spend a decent amount of time and effort towards chalking this one piece of document.
To make a holistic brand guideline, you've got to incorporate not only your customers but your employees too.

And apart from the logo, colors, and tone the following also play an indispensable role in communicating your brand's identity:

If you have a store, the ambiance of the store/office is the first thing to take care of: how is the vibe of your store/office, is it traditional, or modern; uplifting or boring; comforting or chaotic?
Staff and customer relationship: What is the word out there about your customer service; are your customers advocating for you, badmouthing you, or just don't have anything noteworthy or mentionable to talk about?
Products and services: Again what's the opinion of the people about your products? Are you known for unparalleled high-quality products, cheap low-quality, or somewhere in the middle?
Advertising: Is your advertising effective, in a direct way, reflects your genuine concern for the well-being of your customer, and addresses their pain points to the point? Or is it haywire and sales?
Sponsorships: Who are your partners? Do their and your visions converge and are in harmony? Or are they poles apart?
Public Relations: Public Relations are a critical part of your brand strategy because it's how you react when things go wrong, that unveils the most realistic picture of what's going on behind the scenes. And if this relation mirrors your brand's guidelines that it's good, but if it's not, it could end up being a problem in the long run.
Packaging: This might not seem an obvious one at first, but think about it for a while and it'll hit you that just like a picture says a thousand words, so does your packaging and you want to make sure these words hit the same note as your brand's other parameters.
If you go too deep, you'll realize that every action you take is directly or indirectly shaping your brand, branding's just that sensitive. And it can take some time for you to also know your brand well to ensure that a majority of the actions you take are in sync with your brand's motto and themes.
Branding Tips: Some Hacks To Level Up Your Branding Game
Now that you know what a brand is, let's take some time to discuss some branding tips that you can use to build a brand for your business.
Start by analyzing what the current scenario is. An in-depth SWOT analysis may allow some key insight to his into the surface.
After you've done the first analysis, you can start to lay out how you'd like your brand to be perceived from the point of view of your employees, customers, stakeholder, sponsors, and other any other parties that will impact your business. Once you've had these different perspectives laid out in front of you, you can start by molding an image for each of these groups and trying to merge all these images to make one broad brand guideline that is at peace with all the groups.

This may look complicated and time-consuming at first, and honestly, it is. But doing this one-time analysis (although your brand may change over time and you'll have to redo certain bits and pieces of your strategy or maybe start it all from scratch, this analysis and the insights you gain from it help you for a substantial period, a minimum of one year.
Though you can make some obvious tweaks that you feel are necessary, don't change the key element of your strategy way too often, as this may slow down the entire process) can help you experience the success that would otherwise take decades to be manifested in years or even less, depending on how effective it turns out to be.
Here are some branding tips that will make things easier for you:
Know your audience: Understand what your target audience finds appealing or can be potentially appealing in your brand, and try making that element a part of your foundation guideline.
Define your value proposition: Talk about what you've to offer to your customers and the community at large. Don't let your brand be associated with a "just in for the bugs" vibe. Be generous, think about your contributions, and have them come out in your branding.
Plan Your Graphics In Advance: Be careful with colors, know your audience well, and have a palette around the hues that radiate your core brand emotion.
Study Colour Psychology: Make your visuals powerful by leveraging psychological and subconscious hacks and the impact of colors on the human mind.
Branding is way too abstract and it can be hard to figure out if you're doing it right or not. And sadly no one metric would fit all to define the degree of success or failure of your branding campaign. It is something that requires good instincts and the ability to learn by doing.
This is one of those things where you've just got to jump in and figure it out along the way, Though it might seem scary, with consistency and just going through the learning curve, it reaches a breakpoint and starts reaping the benefits.
Role of Digital Marketing in Branding
Nowadays, as most of the marketing happens digitally, ensuring that all digital communications are in sync with your brand guidelines is pivotal.

Moreover, the rise in the emphasis given to digital marketing has led to the emergence of digital branding, which involves using various digital platforms and mediums to mold and maintain a positive brand image online.
FAQ:
Q1) What Does Branding Mean In Marketing?
Branding in terms of marketing is a process of using various marketing tools and strategies to build a positive brand image and perception, and properly position your brand in the market.
Q2) What Does Branding Mean In Business?
Branding with respect to business involves continuously shaping and maintaining a brand's image. 
Q3) What Is Brand Identity?
In simple words, brand identity is basically the personality of your brand. It includes the visual and non-visual elements of your brand(your logo, your font, your voice, and your tone. Your brand identity is essentially the promise you make to your potential customers.
Q4: What Is Brand Positioning?
Brand Positioning involves making a strategy to create a unique brand image in the market. Why should your target audience value you above your competitors? Once you figure that out, you will be able to successfully position your brand in the market.
If you want to fix your business's branding, or you're a newbie who seems interested in this topic and would like to help their brand or work with a business and help them figure out their branding, feel free to join our Training Program on digital marketing which will help you understand branding in-depth. We will also some unconventional yet effective hacks to make branding work for you.
What are you waiting for? Check our website to learn more or sign up for the best digital marketing course in Delhi here.