Meta, formerly known as Facebook, is always looking to stay ahead of the curve. The company is currently developing various new generative AI tools for Facebook, Instagram, and WhatsApp. These tools are designed to capitalise on emerging trends and ensure that Meta doesn't miss any major shifts in the tech industry.
In addition to these tools, Meta is also developing a new AI chat option for Instagram. This feature is similar to Snapchat's My AI tool, which allows users to chat with an AI assistant. Meta's AI chat option is still in development, but it has the potential to make Instagram a more engaging and useful platform.
By investing in generative AI, Meta is positioning itself to be a leader in the next wave of technology. The company is already seeing some success with its generative AI tools, and it is likely to continue to invest in this area in the future.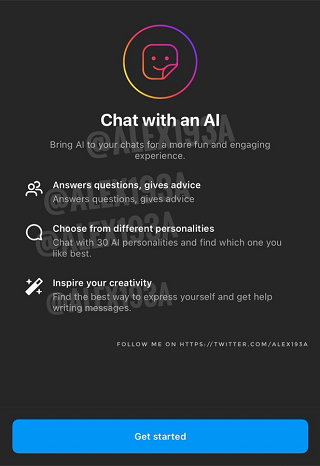 As you can see in this example shared by app researcher Alessandro Paluzzi, Instagram is developing a new AI chat feature that would allow users to ask questions of an AI system within any chat thread.
Not only will users be able to ask questions in real-time, but the AI tool will also be able to provide advice on how to write more effective messages.
As people are using Instagram Direct Messages (DMs) more often, and posting fewer Stories and feed posts, Instagram is looking for ways to expand its messaging options. This new AI chat feature could help feed into that trend.
Generative AI is another development that could be incorporated into social apps. However, I haven't seen a truly game-changing way to do this yet. Most social apps simply add text-to-vision prompts or chatbots into their user interfaces. These are somewhat interesting use cases, but they're not really amazing. The new IG messaging function is likely to fall into the same category. It's interesting to have on hand and to try out with some wacky questions, but it's probably not a hugely useful addition.
Would this be a major functional update? Probably not. However, this is where we are seeing generative AI merging into common functionality as a way to acclimate people to it before merging it into new areas.
These new areas could be far more revolutionary, such as generative AI that can build VR worlds. These types of functions are the next level, but each platform has to start somewhere in developing their AI response tools.