LinkedIn has added a new search functionality for branded content partnerships, making it easier for users to find and explore all of the affiliate marketing campaigns that have used the company's new branded content tags. The new feature, which was announced last week, is available to all LinkedIn users and can be accessed by clicking on the "Branded Content" tab in the search bar.
To use the new feature, users simply need to enter a keyword or phrase related to the affiliate marketing campaign they are looking for. For example, if a user is interested in finding all of the campaigns that have been created for a particular product or service, they could simply enter the product or service name into the search bar. The results will then show all of the branded content posts that have been tagged with that keyword or phrase.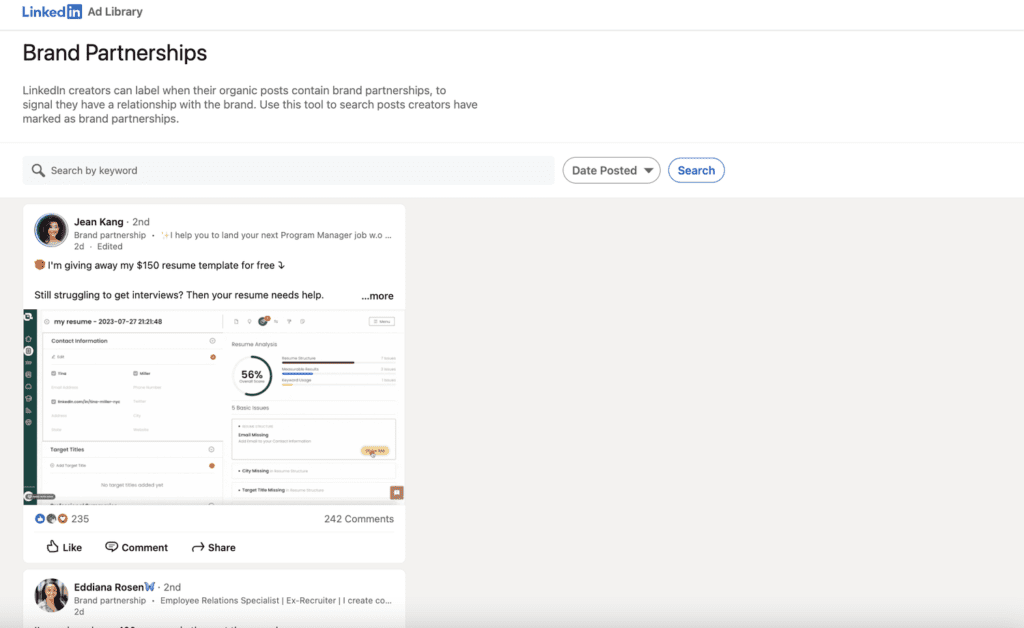 Image source: https://www.lindseygamble.com/blog/linkedin-introduces-brand-partnership-search-to-discover-posts-created-by-creators-on-behalf-of-brands
As you can see in this example (posted by Lindsey Gamble), LinkedIn's Ad Library now allows you to search for branded content partnerships based on keywords and dates. This makes it easier to find out how brands are using influencer partnerships on the app, giving you more competitive insights and increasing transparency over paid promotions on the app.
To search for branded content partnerships in LinkedIn's Ad Library, simply go to the Ad Library and enter the keywords or dates you are interested in. The results will show you all of the branded content partnerships that match your search criteria.
LinkedIn is also putting more emphasis on creators, and providing more pathways for users to build their presence in the app. This could lead to more influencer deals in the app moving forward. In 2022, LinkedIn reported that sharing of original content in the app increased by 41% year-over-year. This suggests that more creators are interested in using LinkedIn to reach their audiences.
Overall, the new branded content search feature is just one of the ways that LinkedIn is making it easier for businesses to reach their target audiences on the platform. In recent years, LinkedIn has become increasingly popular with marketers, as it offers a unique opportunity to connect with professionals in a variety of industries. The new branded content search feature is a further step in LinkedIn's efforts to become the go-to platform for businesses to reach their target audiences.