With the holiday shopping season just around the corner, Meta is helping brands reach more shoppers with new Reels ad options.
First, Meta is adding Collections Ads to Facebook Reels. Collections Ads are already available on Instagram, and they allow brands to showcase multiple products in a single ad. This is a great way to promote holiday gift sets or collections.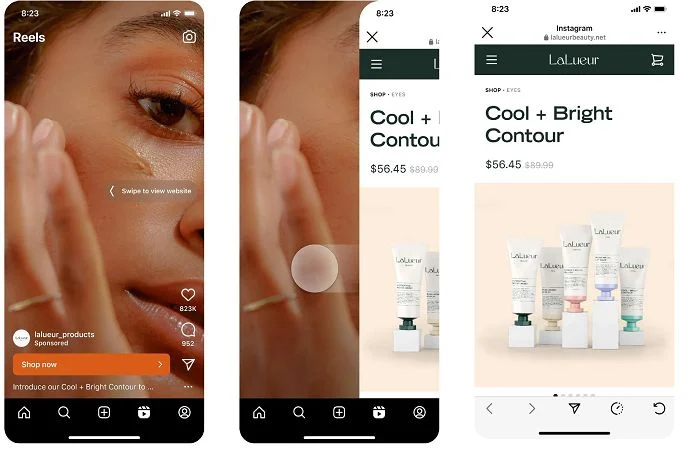 In addition, Meta is expanding its Reels ad program to more businesses and ad formats. This means that more businesses will be able to reach holiday shoppers with Reels ads.
To help businesses create more engaging and effective Reels ads, Meta is also adding new features such as swipe left functionality and click-to-Messenger buttons.
With these new Reels ad options, businesses can tap into Meta's fastest-growing content surface and reach more holiday shoppers than ever before.
Meta has been testing Collections Ads for Facebook Reels since October 2022, and now it's making them available to more brands. The ad unit is not yet widely available, but Meta plans to make it so soon.
TikTok also has a version of Collections Ads, so Meta is moving in line with other short-form video platforms.
Meta is developing new Advantage+ automation solutions for Reels ads, including:
Creative Optimization: Meta is adding new, auto-generated templates for Reels promotions to help advertisers optimise their creative into the best-performing Reels formats. This is one of several new automation features that Meta is building into its Advantage suite, which will enable advertisers to easily generate alternate versions of ads and ad creative.
Music Selection Tool: Meta is making its new music selection tool available to all advertisers on iOS. This tool allows advertisers to automatically apply free music from Meta's Sound Collection library to their ads.
Meta has added new automation and music tools to its Advantage+ toolset in Ads Manager, giving advertisers more ways to use automation in their Reels campaigns.
Meta has also expanded its brand suitability Inventory Filter control and third-party brand suitability verification solution, in partnership with Zefr, to cover Facebook and Instagram Reels.