Twitter is testing a new way for businesses to post jobs directly to the platform. The new feature, called "Twitter Recruiting," allows businesses to create job postings that can be shared with followers and other Twitter users.
Job postings created through Twitter Recruiting can be customized with information such as the job title, location, salary, and benefits. Twitter will use its algorithms to help job postings reach the right people.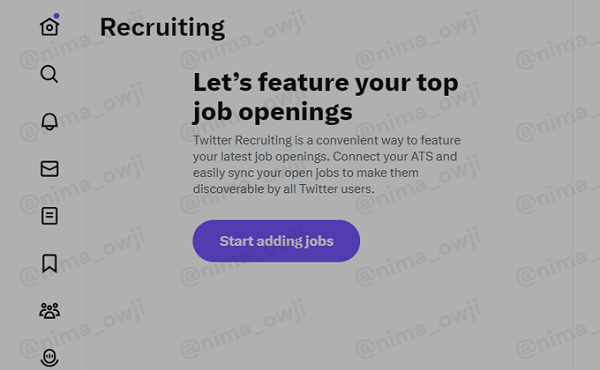 As you can see in the above image shared by the Twitter app, they are working on a new elment that will enable verified organisations to post jobs opening in the app. The new feature is currently in beta testing and is only available to a limited number of businesses. However, Twitter has said that it plans to make the feature available to all businesses in the coming months.
Twitter's new way of posting jobs is a significant development, as it could help the company to compete with other popular job boards, such as LinkedIn. The feature could also help Twitter to attract and retain top talent.
Here are some of the benefits of using Twitter Recruiting:
Reach a wider audience: Twitter has over 330 million active users, so businesses can reach a wider audience by posting jobs on the platform.
Target specific audiences: Twitter's algorithms can help businesses to target specific audiences with their job postings, such as people who live in a certain location or who have certain skills.
Get feedback from potential candidates: Businesses can get feedback from potential candidates by asking them to reply to their job postings with questions or comments.
Build relationships with potential candidates: Businesses can build relationships with potential candidates by interacting with them on Twitter.
If you are a business that is looking to hire new employees, you should consider using Twitter Recruiting. The new feature could help you to reach a wider audience, target specific audiences, get feedback from potential candidates, and build relationships with potential candidates.