Meta is adding new ad tools to WhatsApp to help businesses capitalise on the rising use of messaging in more markets.
First, Meta is adding an option that will allow businesses on WhatsApp to launch paid promotions on Facebook and Instagram without having a Facebook account. This will make it easier for businesses to reach a wider audience with their ads.
Businesses will be able to target their ads based on factors such as location, interests, and demographics. This will help businesses to reach the right people with their ads.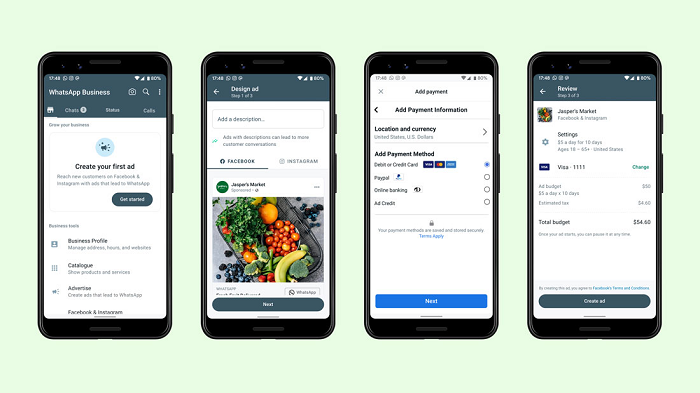 As you can see in this example sequence, the new promotion type will include a WhatsApp call-to-action (CTA). This CTA will direct potential customers back to your messaging channel, which could be a good way to boost brand exposure and open up a more direct line of communication.
WhatsApp is a popular messaging platform with over 2 billion users worldwide. This means that businesses have the potential to reach a large audience by using WhatsApp to promote their products or services.
In addition, WhatsApp allows businesses to send push notifications to their customers. This means that businesses can be sure that their messages will be seen by their customers.
Businesses need to respect the use of messaging in this regard, and avoid spamming potential customers. But it could be a good way to establish direct contact, and keep customers updated on relevant product updates. WhatsApp's focus on privacy has made it a more important communication tool for many users. The broader shift towards messaging, as opposed to posting on social media, has also helped to boost the app's popularity. While WhatsApp has always been popular in regions like Brazil and India, it is now also seeing significant growth in North America, which Meta says is now the platform's fastest-growing region.