WhatsApp has introduced a new connection option through video messages, allowing you to incorporate video clips into your WhatsApp chats, similar to how voice messages function.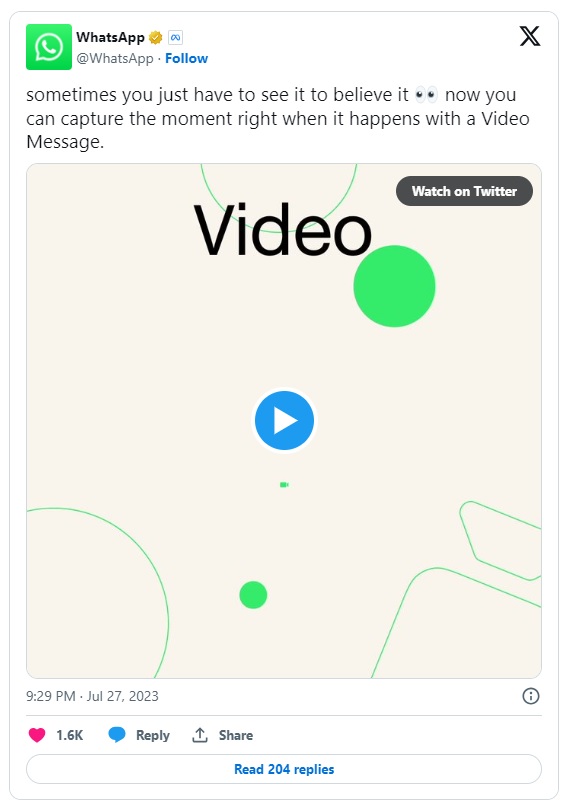 As you can see in the above image, WhatsApp video messages are displayed within the app, providing another way for users to share direct responses.
This move will align WhatsApp more closely with other social and messaging platforms prioritizing video connectivity—a preferred interactive choice in most apps nowadays.
To record a video message, switch to video mode by tapping on the screen and then hold down the button to start recording.
Additionally, there's a convenient feature that lets you lock and record videos hands-free by simply swiping up. When these videos are opened in a chat, they will play on mute at first, and tapping them will initiate the sound. Rest assured, all video messages are protected with end-to-end encryption, ensuring the utmost security for your messages.
Nevertheless, it's worth considering that if you have downloads enabled, these video messages might occupy space in your Camera Roll. However, the advantages of this option are noteworthy, as it offers an enhanced connection within the app, serving various purposes.
Moreover, brand accounts could also make use of this feature effectively. The ability to send short videos such as product examples, explainers, previews, and more opens up opportunities for providing customer service within the app.
In conclusion, this could be a valuable addition to WhatsApp. According to their announcement, video messages will be gradually rolled out starting today and will become available to all users in the following weeks.