Twitter's new creator, ad share payouts have been due for a long time, and the entry requirements are quite strict. However, the payouts are now starting to flow through, and the amounts being shared make Twitter's delayed rollout strategy seem like a wise decision.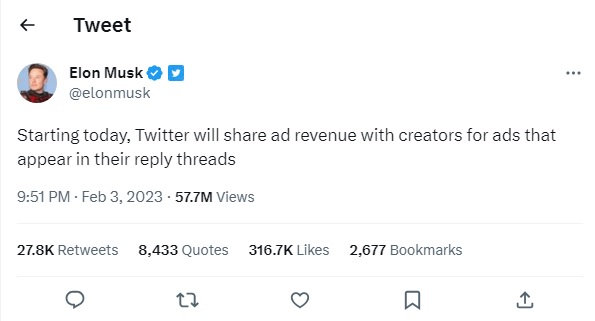 In the past, Twitter owner Elon Musk announced in February that the company would begin sharing ad revenue with participating Twitter Blue subscribers. This was part of a broader creator monetization push by Twitter. The rollout of the ad share program has been slow, but it is now starting to pick up steam. Some creators have reported receiving payouts of several thousand dollars, and there is potential for even larger payouts.
The recent payouts from Twitter's new creator ad share program have been very generous, with some creators receiving thousands of dollars. This will likely spark much interest from other top Twitter users, who will now look into how they can get a piece of the pie.
It is important to note that these payouts have been backdated to February when the program was first announced. This means that they represent five months' worth of ad revenue share, significantly higher than the normal payment amounts creators can expect.
Twitter's decision to pay out five months of revenue share all at once is a clever one. By making the payouts look so large, they are more likely to attract new creators to the program. This will help to increase engagement on Twitter, which is ultimately suitable for the platform.
Overall, Twitter's new ad revenue share program is off to a good start. Some creators have received large payouts, and Twitter plans to give more users access to the program soon. The program is currently only available to verified Twitter users who generate a lot of tweet engagement. This means that creators must produce high-quality content people want to read and interact with.