Instagram is rolling out a new option to share feed posts with Close Friends only, as it continues to evolve its features to meet the needs of its users. This new option gives users more control over who sees their posts, and it provides a way to facilitate more intimate and meaningful engagement with their closest friends.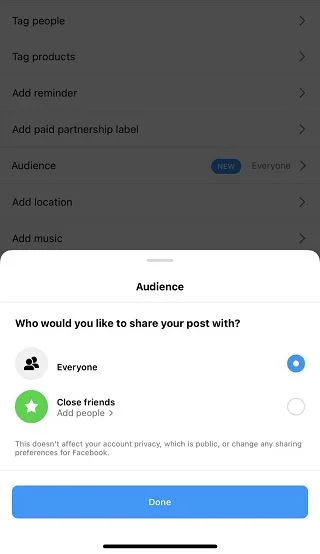 As influencer marketing expert Lia Haberman (via creator Jordan Shalhoub) recently shared, Instagram is now testing a new way for users to share feed posts with their Close Friends only. This new option is available within the post composer flow, and it allows users to select "Close Friends" as their audience instead of posting to their profile as normal.
This is an expansion of the Close Friends option that Instagram added for Stories back in 2018. With this new feature, users will have even more control over who sees their content, and they can share more personal and intimate moments with their closest friends.
Instagram has experimented with different ways to let users share posts privately. Previously, you could share posts with selected users or switch your profile to private. However, the new option would make it even easier to limit who can see your posts. When you're creating a new post, you'll be prompted to choose whether you want to share it with everyone, with Close Friends only, or with a custom audience.
Note that if you choose to share a post with Close Friends only, this setting will not affect your Facebook audience settings when cross-posting.
This update is part of a broader trend towards more private group engagement on social media. Instagram CEO Adam Mosseri has said that users now share more content via DMs than they do in feed posts or Stories. In response, Instagram has been developing new features to make it easier for users to share content privately, such as collaborative posts, post collections in chats, and Notes.
The ability to share posts with Close Friends only could help users feel more comfortable sharing more often, knowing that only their closest friends will see their updates. It's not a major change, but it's a welcome addition that could help Instagram stay ahead of the curve.