LinkedIn, the world's largest professional networking platform, has recently shared new insights into how its algorithm works. The company's goal is to help users find the most relevant and valuable content on LinkedIn, and the algorithm plays a key role in making that happen.
The LinkedIn algorithm takes into account a variety of factors when determining which content to show users, including:
Non-professional content, especially posts designed to game the system, will no longer be rewarded in the same way. The reasoning behind this is that LinkedIn saw an influx of Facebook-style content during the pandemic when most of us saw our work and personal lives merge together for a period. And because LinkedIn's algorithm looked to amplify the most engaging posts, re-posts of viral content from other platforms also started to seep in, which it's now looking to correct.
LinkedIn is prioritizing content from first-degree connections. LinkedIn says that users regularly tell them that the most valuable content comes from people they know, so users are now seeing more updates from direct connections and users that they follow in their feeds.
LinkedIn is also looking to highlight expert knowledge and advice. So how does LinkedIn know what constitutes expert insight? The system is now looking to identify each user's interests, based on their profile info and activity, and if other members within your niche are engaging with your posts, that's a strong signal that you're sharing material of relevance and value. Along this line, comments are also important, but not generic, one-word comments, which some have also used to game the system. More in-depth replies and conversations will also help to improve your post reach (pro-tip: respond to comments on your updates)
LinkedIn's system is also trying to identify opinions and advice, which feeds into the previous element. There's not a lot of detail in how LinkedIn is categorizing this, but you should be looking to share insight, rather than just re-posting.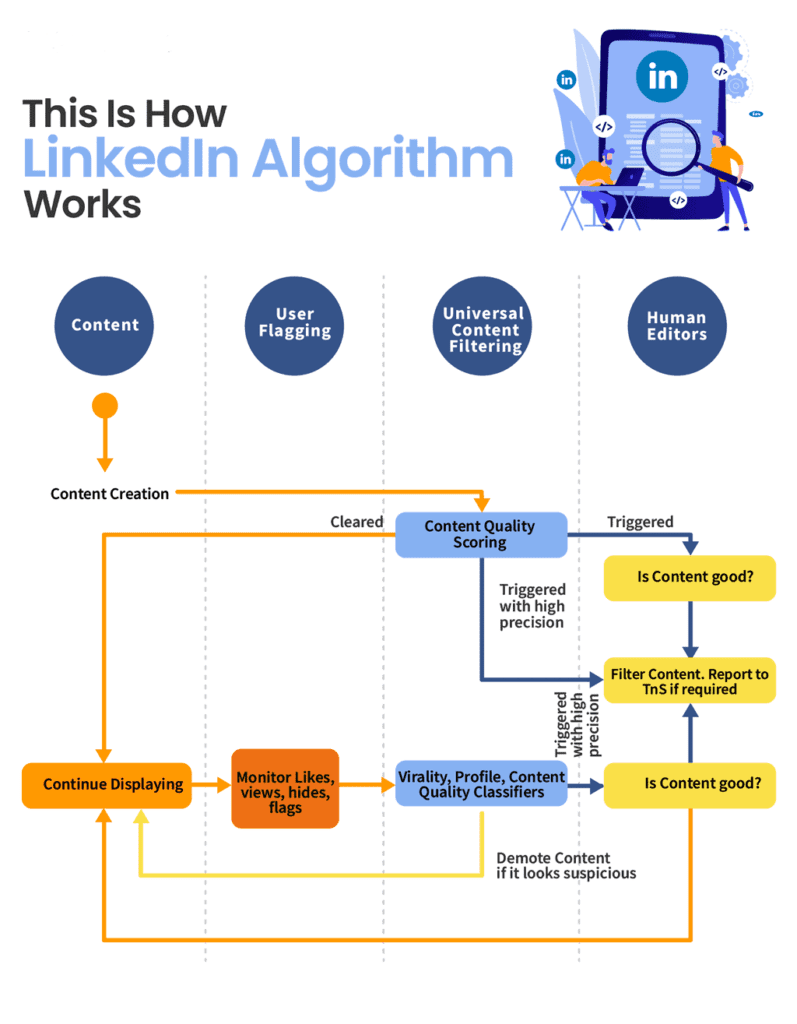 As you can see in the above image how LinkedIn's recent update to its algorithm is a logical and potentially beneficial change. The update aims to increase engagement bait and amplify more relevant content. However, it remains to be seen how effective LinkedIn's system will be at achieving this goal.
On the other hand, filtering members into topical buckets could be one way to filter out engagement bait. If LinkedIn's system can successfully identify users' interests and group them together, it can then show them content that is more relevant to their interests. This could lead to an increase in the amount of relevant content that users see, which could ultimately improve their experience on LinkedIn.
LinkedIn has already seen some success with this approach. The company reports that it saw a 42% increase in content shared between 2021 and 2023, and a 27% increase in overall content viewed. However, it is important to note that LinkedIn has been trying to incorporate more topical filtering for the past few years, and it is still a work in progress.
Overall, LinkedIn's update to its algorithm is a positive step. However, it remains to be seen how effective the company will be at achieving its goals. In the meantime, users can take steps to improve their own content strategy by creating content that is relevant to their target audience and sharing content from authoritative sources.