LinkedIn's Sales Navigator gets new AI features that make it easier to search for leads and information using conversational language and summaries.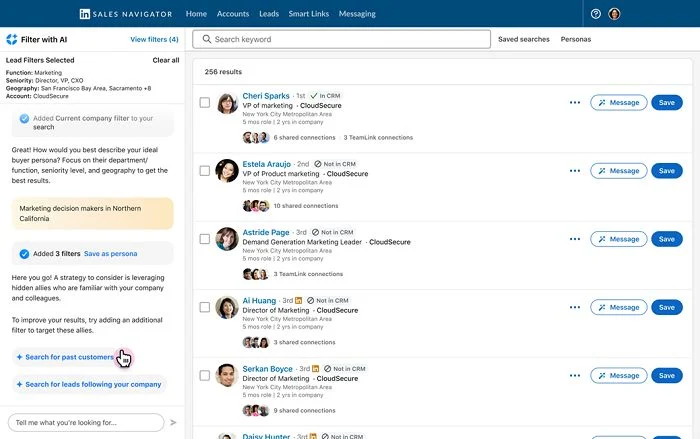 LinkedIn's new "Filter with AI" table appears on the left side of the Sales Navigator screen and gives users more options to refine their searches with prompts and conversational queries.
LinkedIn's new AI features make it easier to conduct in-depth research, expand your pool of leads, and find new opportunities, without needing to know how to use Boolean strings or search parameters. Additionally, LinkedIn's new "Account IQ" feature uses AI to create summaries of key information about potential contacts.
LinkedIn's new AI-generated summaries highlight key news, financials, key team members, and more. With one click, sellers can use Account IQ to understand key information about an account in a single view, such as public filing data, financial reports, workforce trends, and company leaders' priorities. This can greatly enhance response time and outreach by giving sellers all the information they need to personalise their pitches.
LinkedIn is expanding its use of generative AI, which has already been added to profile summaries, post prompts, and job listings. This makes sense given that Microsoft, LinkedIn's parent company, is integrating AI into all its apps and functions through its partnership with ChatGPT maker OpenAI.
In a separate announcement, LinkedIn reported that member interest in generative AI is also rising, with posts about AI and GPT increasing 33x year-over-year.
LinkedIn is offering its 10 most popular LinkedIn Learning courses on generative AI for free until December 15, 2023, to help members learn more about this rapidly evolving field. As AI tools become more sophisticated and people find new uses for them, it is worth considering how generative AI can be used to enhance your work. While AI is unlikely to replace entire roles, it can be a valuable supplementary tool in almost any work environment. Sign up for the free courses today to learn more about the generative AI shift.