Meta is adding new ad optimization tools for the holidays, such as variable campaign budget options, tools to encourage purchases, and direct links to buy products from ad displays.
First, Meta is adding a new time-based budget scheduling option, which allows advertisers to set a higher budget for a campaign during a specific time period.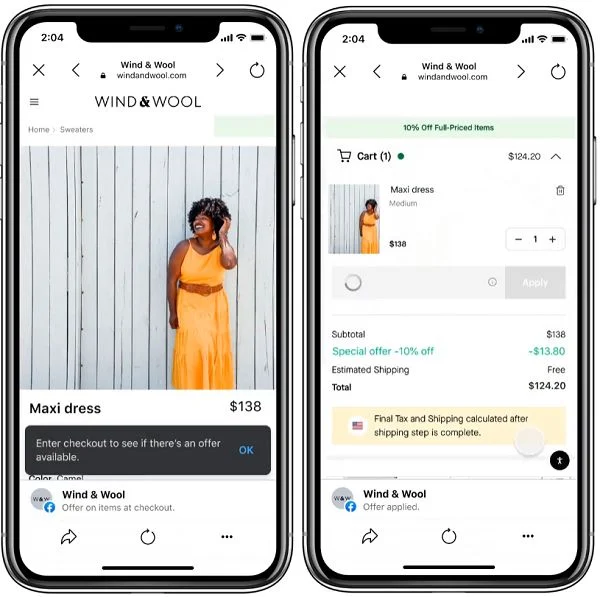 Meta's new budget scheduling feature allows you to set a higher budget for specific days, such as a weekend when you know your campaign is expected to see more interest. This can help you maximise your campaign reach without having to run separate ad sets or manually update your budget.
Meta is also testing similar budget variations for Advantage+ campaigns, which will allow you to set a higher budget for specific audience segments.
And Meta is expanding its Promotional Ads to more businesses. Promotional Ads offer shoppers access to discount codes and offers in-stream, which can entice them to buy.
Promotional ads, which offer shoppers discounts, can help drive conversions by guiding them to checkout. Promotional ads will be available in the US, UK, Canada, and Australia this holiday season.
Meta is also opening up Reminder Ads to more businesses. Reminder Ads allow people to receive notifications about upcoming events on Instagram. Meta is making it easier to create Reminder Ads by allowing advertisers to upload creative in Ads Manager. Reminder Ads are now also available in Stories, another way to spark interest.
Shops ads make it easier for people to buy from an ad on Facebook and Instagram, which drives more purchase activity. To make this even easier, Meta is testing new integrations with Adobe Commerce, Magento Open Source, and Salesforce Commerce Cloud. These integrations will link your Meta ads directly to your purchase flow, helping to facilitate more direct shopping activity.
Meta already has established integrations with BigCommerce, Feedonomics, ProductsUp, GoDataFeed, and ChannelAdvisor, a CommerceHub company.
These new options will help you drive more direct action from your Facebook and Instagram ads and get more people to convert. And if Meta can provide a better shopping experience, it will also help to improve trust in its systems, which could make it a bigger shopping destination in the future.