If you are reading this 2023 or any time after that, you must have heard the term "Digital Marketing". In this post, we will cover what digital marketing is, why we need it in the first place and how you can easily learn the fundamental concepts of digital marketing.
Don't worry even if you don't know a thing about what digital marketing is or if you know a little too much, in this blog we'll equip you with some basic jargon, ideas, and understanding of digital marketing. So that you feel a bit more confident about your knowledge and find yourself in a better position to decide if this thing interests you or not.
Let's start with decoding this word because there's where its broad meaning lies:
Digital Marketing is marketing your product/service/talent/anything that could be digitally sold to people.
Digital Marketing leverages search engines, websites, social media platforms, emails, and mobile applications for promoting a product or service.
What Is Digital Marketing? Why Do We Need Digital Marketing in The First Place?
Though if you've seen the COVID pandemic it may seem obvious to most of you and you may skip this section, but if you're someone who is still skeptical about this entire idea and you think that it's a bit overrated; you've got to read this bit.
Digital Marketing is the future because:
Customers are moving online
Its ROI is amazing (as compared to all the other modern and traditional alternatives out there)
It's light on the pocket
It knows no boundaries
It knows your audience and it helps them find you
It adds more to business than just money
Helpful Resource: Scope Of Digital Marketing In 2023
Pillars Of Digital Marketing
Now that we've answered "what is digital marketing" and why making a digital marketing strategy is important for businesses, let's now move on to the pillars of digital marketing.
Like any other discipline, Digital Marketing also has various sub-disciplines/pillars, and having a fundamental understanding of each of them would help you understand how digital marketing works better.
Pillars of Digital Marketing:
Content Marketing
SEO
SEM
Social Media Marketing
Email Marketing
Affiliate Marketing
Let us understand each of these pillars through an example: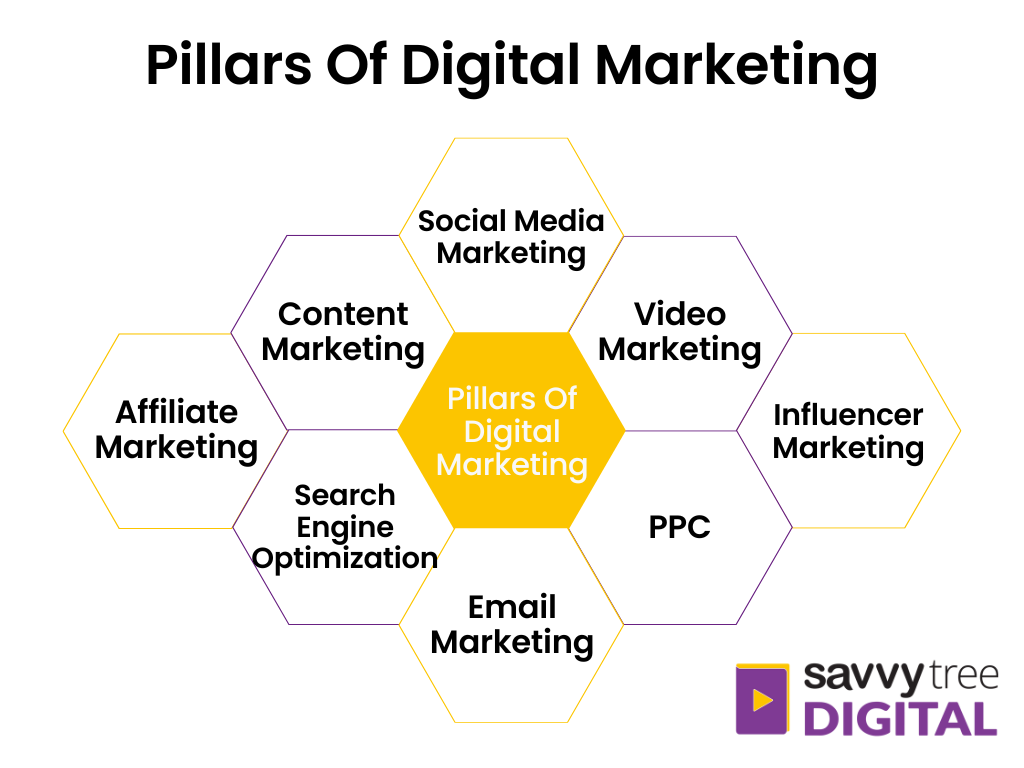 What Is Digital Marketing With Example
Let's say Lily who runs a florist store wants to take her business online and use digital marketing tools to grow her business in terms of:
Get more people to know about her store
Drive more sales through digital media
Build a luxe brand image and positioning
Now to achieve these goals, let's lay out a blueprint for all the steps she'll have to undertake and understand the various pillars of digital marketing:
Content Marketing: Lily will have to first set up a website and start putting content on topics that her target audience might be interested in. This content can be in the form of blogs, videos, or/and images. This process is called content marketing.
SEO (Search Engine Optimization): Once Lily has some decent content on her website, she must optimize the content so that google/any other search engine can crawl the website and start ranking it on the search page once it believes it to be genuine and credible. This can be done by incorporating a set of healthy practices and getting backlinks from established and related genuine websites. In our example, Lily can reach out to a floral enthusiast or wedding decorator and get them to talk about her flowers and have them redirect their audience to her website. This part of optimizing the content on the webpage or it to become easily findable when anyone searches for it is called Search Engine Optimization. It is a slow process and can take some time to see results even if you're following the best practices.
SEM (Search Engine Marketing): As SEO takes time, starting with an SEM campaign on the side can help the business get some initial sales and keep the business going. Lily can start creating video, image, and text-based ads that will be displayed on various search engines. She can further target these ads to the people who'd most likely buy from her.
Social Media Marketing: Apart from the above-mentioned mentioned pillars, Lily must also start building her presence on various social media platforms.
Digital Marketing Channels
While deciding which digital marketing channels to focus her time and resources on, she must consider the following factors:
Where is the majority of her audience most active?
What kind of content can she create?
Would that content suit the platform?
The answers to the above questions are as follows:
Since floral products are visually aesthetic and appealing a large proportion of her audience would likely be users of social platforms that are dominated by visual content like Instagram and Pinterest.
2. She is a florist who already has an aesthetic product in place, all she needs is a subtle sense of capturing pictures.
A significant fraction of her content can be around showcasing her range of exotic floral species.
She can also offer some tips, factoids, and informational content about some of her rare and unique products.
She can have contests, giveaways, and trivia games to keep the audience engaged.
Lastly, she can also alter her content to resonate with a trending tropical event, which would also increase her engagement rate and the chance of people discovering her.
Considering that most of the content is going to be visual and she's channelizing it on visual platforms, it is likely for her content to work. Though it might be slow initially, once she develops the insight as to what her audience likes, she can further try replicating more of that content or content on similar lines.
4. Email Marketing: This pillar of digital marketing comes into play at a slightly later stage as it requires Lily to have a database of her target audience that has shown interest in her products, either on social media, on her website, or in advertisements about her product. Lily can collect the emails of people who've interacted at all these touchpoints and retarget them via emails.
Though seeming old school, email marketing continues to be an effective marketing tactic that is especially preferred while retargeting as most people do end up checking their emails once a day, and if you happen to be their inbox with a catchy and hooky subject line, that entices people to open your mail; you'd stand a good chance of the person converting or at least visiting your website.
5. Affiliate Marketing: This form of marketing involves a third party who recommends your product and service and aims to convert potential customers via an affiliate link. When a conversion takes place a small portion of the profit generated by each affiliate conversion is shared with the third party.
In our example, let's say Lily reaches out to her close internet friend "Lucy" who's into wedding decor, to talk about Lily's floral variety and provides an affiliate link for the same. Everyone who checks out Lily's products and converts drives some profit for Lily who shares an agreed fraction of it with Lucy.
This is the idea behind affiliate marketing most influencers work via affiliate marketing.
Though Lily will have to continuously evaluate and monitor her strategies and performance for each of the above-mentioned pillars, and improvise and optimize according to the feedback received, this is what her initial digital marketing strategy would look like.
Moreover, though all pillars of digital marketing are considered equally important, there would still be one pillar that accounts for the largest chunk of sales, Lily can identify that pillar and double down her efforts on this strongest part.
Benefits Of Digital Marketing
Digital Marketing is one of the most effective ways today to help your business reach new heights. It is surely an opportunity like never before that allows you to attract sales and profits even if you're just starting.
Here are some of the reasons why digital marketing is all the rage these days:
1. You can precisely target your audience.
For the first time, you can choose who sees your ad based on age, gender, location, language, and most importantly interest. A feat that was not possible through radio, television, print, and other traditional as well as modern forms of advertising.
2. It is cheaper and yields a higher ROI.
Compared to all other marketing alternatives, marketing digitally is usually less expensive than other forms of marketing and tends to yield a substantially higher ROI which makes it a no-brainer to try out digital marketing.
3. It is highly measurable.
Unlike traditional forms of marketing, where measuring progress becomes highly ambiguous, digital marketing offers clear reliable insights and metrics that help you see how a particular campaign is working. This allows you to take key decisions easily.
4. Helps you connect with your audience.
Not only does digital marketing help you with increasing revenue but also helps in creating a healthy and warm relationship with your customer audience. With the help of social media, you can engage with your audience and know them better.
Steps Involved In Digital Marketing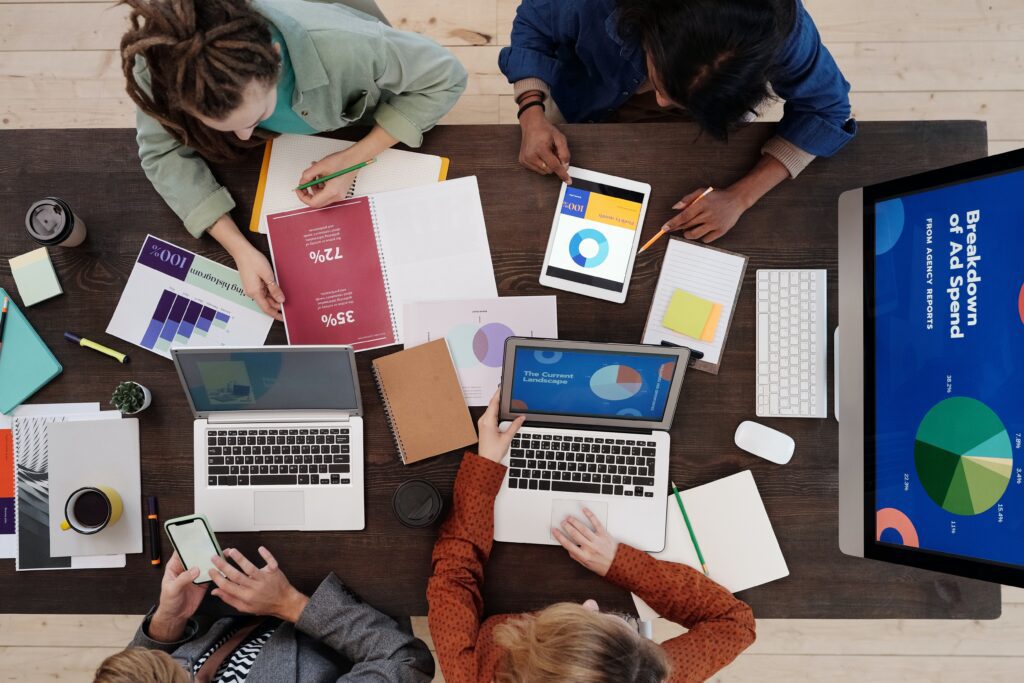 1. Define Your Goals
Before jumping into making a marketing strategy, the first step is to determine the objective you're trying to achieve.
Let's say Lily wants to make her brand more visible and wants more people to know about her floral products. In that case, her objective is to increase brand awareness, which can be achieved by running awareness ads and being more present on social media.
So she can primarily focus her strategy on SEM and social media.
This is the benefit of being aware of your goal, it helps you nail down the specific pillars that would need the most work.
2. Make Buyer Personas And Know Your Audience
As aforementioned, digital marketing allows you to target specific people who'd most likely be interested in your offerings but you won't be able to make the most out of this special feature if you don't know who your target audience is.
Adding to that knowing your audience well will help you create content for them easily.
For instance, your audience includes GenZs who are most active on Instagram and enjoy ideo-based content, so you should try creating video-based content that gets their attention.
3. Know Your Budget
When you've decided your goals and tapered down the pillars of marketing that you'd be focusing on, it's time to allocate a budget to each of these platforms.
Let's assume that Lily wants to focus on inbound techniques that include SEO, social media, and content marketing; to leverage these pillars she doesn't need a heavy budget as they call for more time, state, nation, and learning by doing.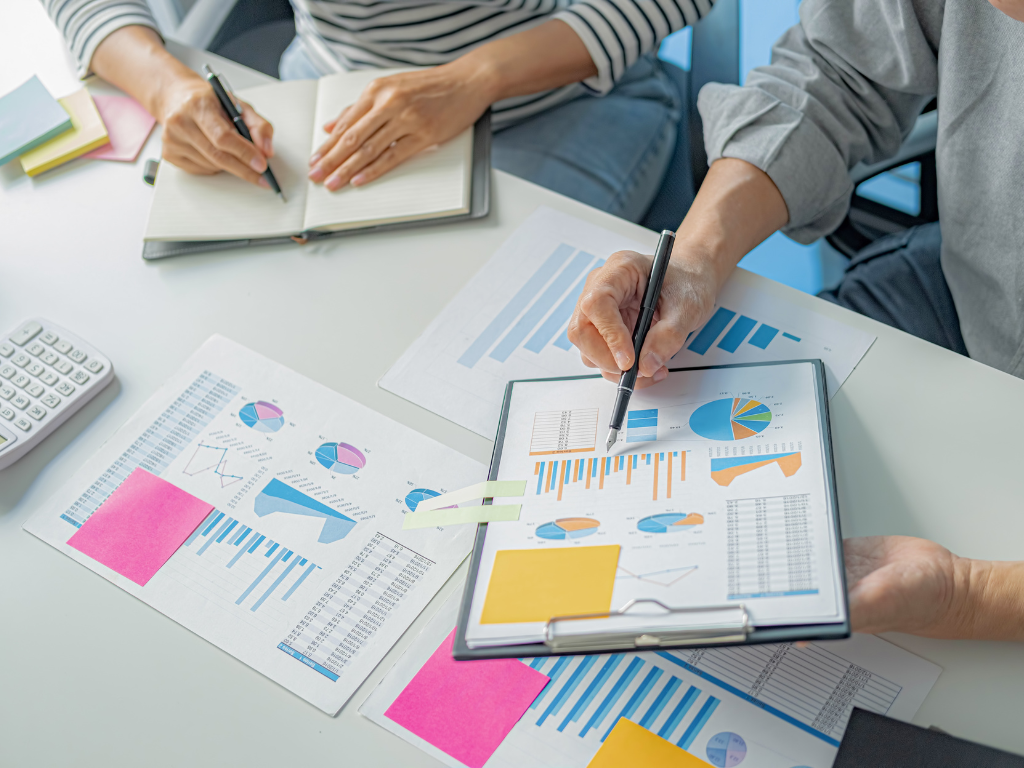 On the other hand, if Lily wants to focus on her outbound techniques that involve SEM and performance marketing, she'll need to have a higher budget in place as there she'll be competing with other parties who are also wanting to show their ads via google, and google will prefer the ones who place a higher bid.
So, if you know your budget you can choose to work on digital marketing strategies that are in line with your budget.
4. Give equal attention to SEO & SEM
Considering the instant results a well-planned SEM campaign brings about, one may get tempted to only focus on SEM and neglect SEO altogether, but that should not be the case as SEO helps you sustain in the long run. Once your SEO is decently done you will start attracting sales organically without paying anything to Google or any other search engine for that matter.
Additionally, Google recommending your content helps your business/brand build credibility versus you running ads to get people's attention.
Make content that prompts engagement
Whatever the format of your content i.e. video, static post, or article, try making it engaging so that it improves lead generation and brand awareness.
Considering the number of mobile phone users and the average time they spend on it daily it is safe to assume that more than half of the people viewing your website, content, or ad would be viewing it via their mobile phones owing to which optimizing your content for the small screens becomes non-negotiable.
Try ensuring that people viewing your content on mobile screens get the same experience as anyone viewing it from their desktops.
Have the right mix of keywords
Incorporating a bunch of related and rankable keywords is the most basic SEO tactic that you should be using even if you don't have an SEO Specialist. Furthermore, a bunch of free and paid tools has made keyword research easier than ever. The idea is to have a decent mix of related rankable keywords and related keywords with high search volumes.
Improvise your strategy as per the results
Digital marketing allows you to track your performance on KPIs that are defined by you and you can analyze if your current strategy is working or not.
What Do Digital Marketers do?
Digital Marketers wear many hats and are required to know the nitty-gritty of all the pillars of digital marketing are usually required to chalk out a strategy from scratch or can be asked to identify loopholes in the current strategy and make a tweak to help a business/individual reach their business goals.
How to Learn Digital Marketing?
There are numerous free tools and resources out there to get started with and develop a basic understanding following.
Google offers a course on the basics of digital marketing which is absolutely free and gives you a bird's eye view of each pillar, after completing which you can go ahead with a dedicated course.
Helpful Resource: Best Digital Marketing Courses
Who We Are & Why Should You Trust Us
We are a digital marketing agency that offers 360-degree marketing solutions to businesses across the country. As an agency, we understand what the industry needs and know exactly what will prepare you for your first digital marketing job.
Whether you are a fresher ready to bag your first job(or internship) or a working professional excited to upskill yourself, our online digital marketing course may be exactly what you need to take your career to next level.
Please fill out this form to download our brochure.