Snapchat has added a new feature to its 'My AI' chatbot experience, allowing users to send visual cues to the bot along with text prompts. This means that users can now send a picture of their food, for example, and My AI will respond with a relevant recipe. The new feature is designed to make My AI more engaging and useful for users.
Snapchat said:
"Snap My AI a picture of your pizza, OOTD, or even your furry best friend, and My AI may respond with a Snapback in reaction to what you're doing. So, if you Snap My AI for your latest grocery haul, it might recommend a recipe!"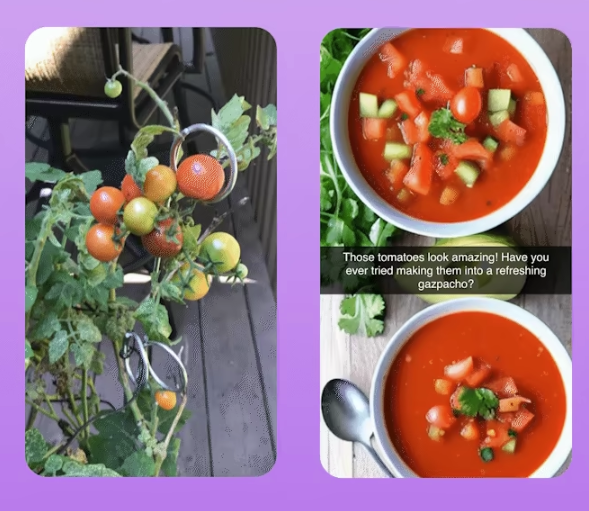 The above example shows, when you send My AI Snap in the chat, it will respond with a related reply.
Visual cues are the next frontier in text-based generative AI tools. ChatGPT, a large language model developed by Open AI, can now incorporate image queries into its responses. This allows ChatGPT to provide more customized and refined responses to user prompts.
My AI, a chatbot developed by Snapchat, is also built on the ChatGPT framework. This means that My AI can now respond to visual cues as well as text prompts. This new feature will allow users to interact with My AI in a more natural way and get more personalized responses.
My AI was originally only available to Snapchat + subscribers, but it was made available to all users in April 2023. Snap is betting that My AI will help to boost its popularity and keep users engaged.
While My AI has been popular with some users, it has also been criticised for its prominent placement in the Snapchat inbox. Some users have found it intrusive and have asked for a way to disable it.
Despite the criticism, Snap is clearly committed to generative AI. The company is also developing a feature called "Dreams" that will allow users to generate AI dreamscapes and place themselves into them. Generative AI is a rapidly growing field with the potential to revolutionize the way we interact with computers. Snap is one of several companies that are investing heavily in this technology, and it will be interesting to see how My AI and Dreams evolve in the future.