Meta's Threads app, which is similar to Twitter, is adding a new key feature keyword search. The Threads team will begin testing this feature with users in Australia and New Zealand this week.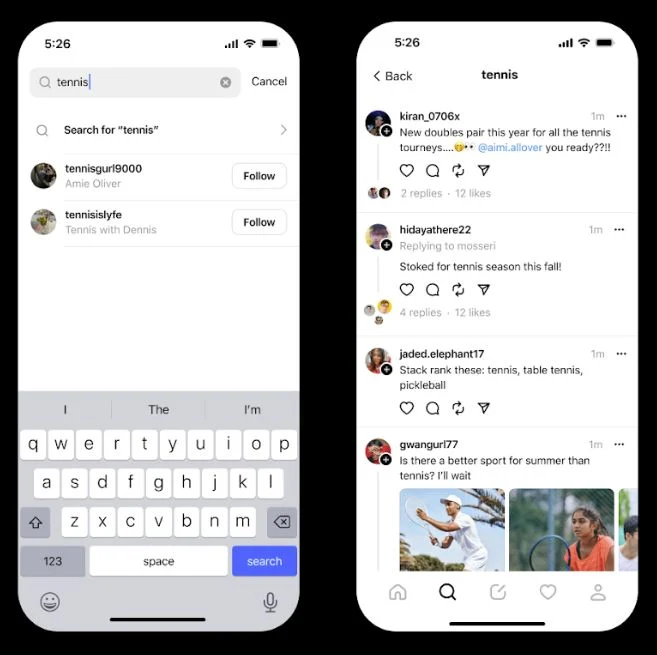 As you can see in the example, keyword search on Threads will show you all of the posts that mention your chosen terms. This is a key update that is required to bring Threads into UI parity with other social apps. However, the Threads team launched early in order to capitalise on the demand for a Twitter alternative. This means that while Threads works as a basic alternative for now, it is missing several key elements, such as hashtags and the ability to reply to specific posts.
Threads is missing several key features, such as keyword search, API accessibility, and availability in the EU. The Threads team launched the app early in order to capitalize on the demand for a Twitter alternative, but this has led to some users being disappointed with the lack of features.
In recent weeks, Threads usage has declined, and downloads have slowed down. It is possible that the app's early launch has led to some users having a negative first impression, which could hurt its long-term prospects.
However, Meta has the resources and experience to make Threads a successful app. If the company can continue to add features and improve the user experience, Threads could still become a viable Twitter alternative.
The launch of keyword search in Australia and New Zealand is a positive step, and it is likely that the feature will be rolled out to other regions soon. This will make it easier for users to find the content they are looking for, which could help to improve engagement with the app.
Ultimately, the success of Threads will depend on whether it can offer a compelling alternative to Twitter. If the app can add more features, improve the user experience, and attract a large user base, it could be a success. However, if it fails to address the concerns of users, it could struggle to compete with Twitter.