Twitter is on its way to becoming a platform with all social media services that any person/brand might need!
It's gradually rolling out its new job listings feature to verified organizations on the app, allowing some businesses to post job openings directly on their Twitter profiles.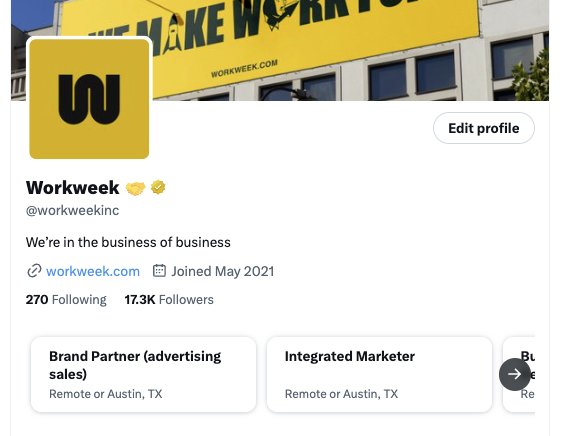 The above example shows how Workweek recently made a new option to post jobs on Twitter.
Workweek CEO Adam Ryan says the job listing feature is part of the $1,000/month Verified for Organizations package, a perk of the corporate verification offering. Although yet to be listed on Twitter's Verified Organizations page, live testing suggests that it is nearing launch, with Workweek among the first brands to get access.
Elon Musk is all set to create a LinkedIn competitor as part of his broader vision for the platform, which could also eventually include more video elements, in-stream payments, dating profiles, and more, all built into the Twitter experience.
This aligns with Elon's 'everything app' plan, with Twitter set to facilitate more and more types of interactions and processes, offering enhanced utility. The hope, then, is that more users will come to rely on Twitter as their essential app of choice, which will then facilitate more growth opportunities, more engagement, more ad sales, etc. But eventually, that's Elon's grand plan, with job posts being another element within this broader scope. Twitter's already developed the full back-end process for job listings, enabling businesses to link interested users to an application page on their website or via a third-party provider.
The only real catch is the cost. Twitter is limiting the option to verified organisations. Still, they are also giving away gold checkmarks for free to advertisers who spend over a certain amount on monthly Twitter ads. This means many big brands will likely have access to the option in the coming months.
This will be a huge upgrade for all Twitter users and also for the ones who are currently not using Twitter much. These features might just entice one of us to go make a Twitter account, don't you think?