So 2023 is finally here and you surely have some big business goals in mind for 2023.
In this blog, we will discuss social media marketing in 2023. Basically, this post will cover some key areas and strategies that you can focus on to make the most out of social media platforms.
Not sure what social media marketing is? Don't worry. We've got you covered. Check out this post about the fundamentals of social media marketing.
This is going to be a long and heavy one so make sure you're taking notes of the things that might come in handy.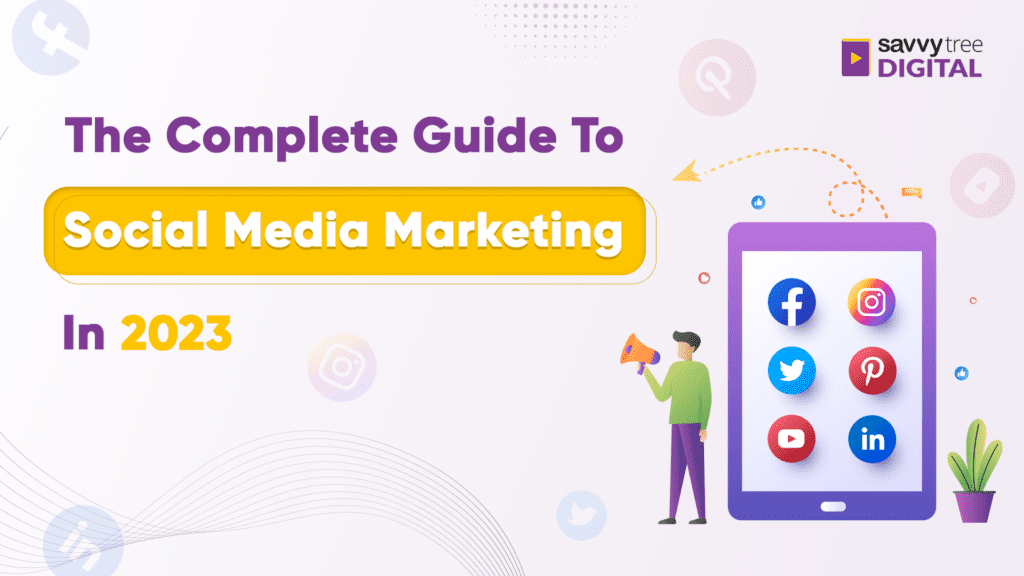 Here is what we'll be going over in this post about social media trends in 2023:
Instagram trends for 2023 so you can tailor your content around these pillars and reach larger audiences.
A complete guide on getting started on LinkedIn and making the most out of it
Twitter Features that you must try out in 2023 to amplify your presence on the platform.
YouTube trending subjects that you've got to leverage upon.
Facebook features that'll help your business grow in 2023 and tips that'll help you make the most out of it.
With that let's start with the teen favorite and a big star: Instagram
Instagram Marketing In 2023
When you're trying to reach the masses and especially Gen Z, no social media platform can get you better results than Instagram. But to make sure that you're making the most out of this platform you've got to ensure that you make the best social media strategy possible for this platform.
Adam Mosseri, head of Instagram, has also kindly, shared their vision for the platform. Read more about them in this blog.
1. Capitalize On Reels
Instagram is realizing the power of video content and has been extensively owing to the amount of engagement reels bring. Reels get up to 300% more engagement than normal videos and the algorithm loves it too.
So make sure reels become an indisputable part of your social media strategy in 2023.
2. Show Your Face Sometimes
Instagram reports that reels with human faces tend to have a 25% higher click-through rate.
Make reels fun and the process of making them fun too.
Consider it a spontaneous team activity rather than a heavily-scripted and predictable video.
3. The First 3 Seconds
When we get to the crux of social media marketing in 2023, you need to capture your audience's attention in the first 3 seconds or they will scroll past you.
Reels are great, but make sure to include a hook in the first 23 seconds to generate curiosity.
4. Add Caption To Reels
Adding captions to your reels and videos is a must. Not only does it help your content be accessible to people who have hearing disabilities but also it helps the users who view the content with the sound turned off.
Closed captions are turned on by default now and users can decide if they don't want the captions you don't have to necessarily turn them off at your end.
Moreover, you time your text according to key moments in your video to make it more impactful.
5. Use Trending Audio
Using trending audio in your reel can increase the exposure your content gets. Please make them an important part of your social media strategy.
You can tap on the audio being used in a reel and see how many and what kind of reels have been made using the audio.
But don't just hop on the trends randomly. Make sure that it isn't super competitive or your video might not get the response you were anticipating.
For instance, if a particular audio has 300k views working on an idea, it might not be the best idea if your page is relatively smaller.
6. Templates
If your post has multiple images and videos, consider using a template that will automatically sync your clips to the audio of the reel.
This can help strike new conversations and increase engagement with the app.
Now that we've covered Instagram marketing in 2023, let's move on to the next platform that you need to include in your social media marketing plan in 2023.
LinkedIn Marketing In 2023
LinkedIn may seem slightly different from other social media platforms, but here is a strategy that will help you plan, execute and achieve your goals using LinkedIn in 2023.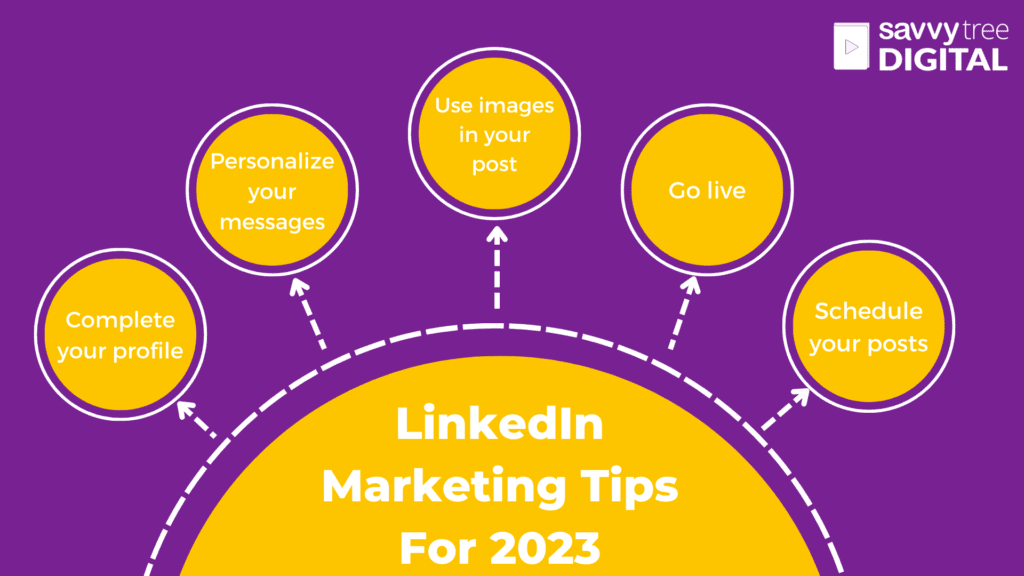 1. Setting An Objective
The first step in terms of creating a social media strategy for LinkedIn is to define your purpose. What pain point/aim are you trying to alleviate/achieve?
LinkedIn is "The Site for Recruiting" and is equally famous for B2B lead gen.
It's important to consider a platform's forte before trying to work out how you'll achieve anything using it. Once you understand what a platform is most known for you can alter your approach to fit the platform and its key audience better.
Considering LinkedIn's platform personality, it is the favourite place for B2B companies and recruiters.
2. Setting Up A LinkedIn Page
Once you've narrowed down your objective, setting up a neat LinkedIn page is the next step.
LinkedIn pages offer tabs and sections, so make sure you're using these features to build an organized page as LinkedIn claims that complete pages tend to get 30% more weekly views.
If you're a large organization you might try out Showcase Pages instead and segregate your content accordingly.
And once you've completed this step, cheer up for yourself, but don't just abandon it right away, keep updating it regularly and build a consistent posting routine.
3. Scan Your Audience
After you've set up the page and have been posting on it for quite some time, LinkedIn like any other social media platform will present you with an audience report which will help you understand some basic details of your audience.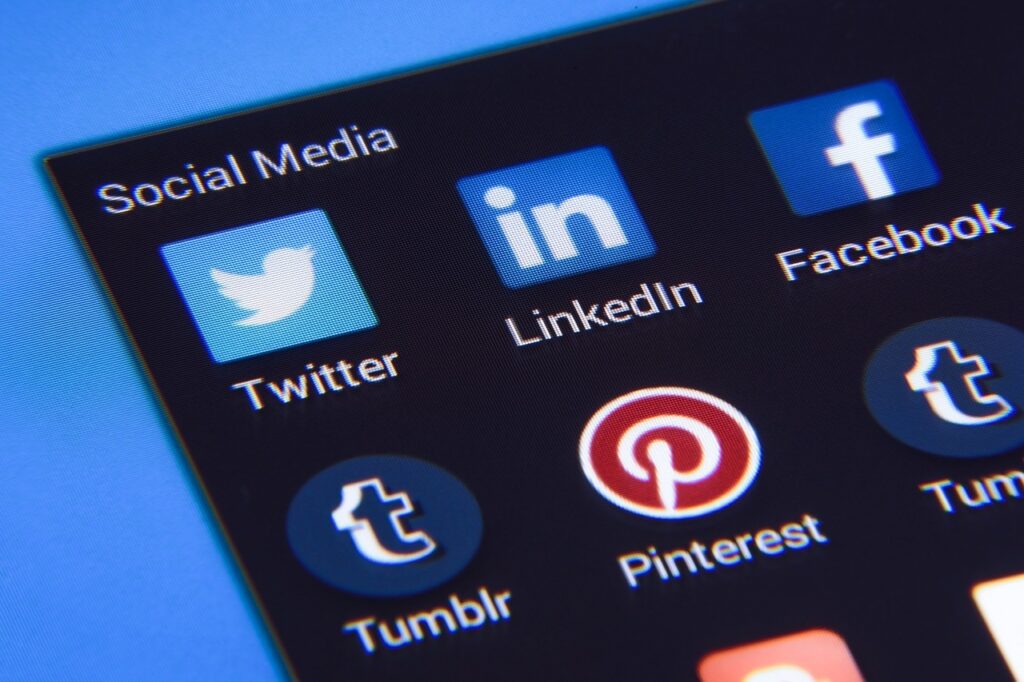 LinkedIn has also now added Audience Insight feature in their creator studio. Make sure that you use these insights to update your strategy.
4. Review Your Performance
The next thing you need to know about LinkedIn marketing in 2023, LinkedIn helps you find out what's working and what's not when it comes to the content you make.
LinkedIn analytics give you a good picture of how you're content's been performing, you can use these insights to mold your strategies according to what's been doing well for you and increase your overall performance.
5. Employees Can Influence More Than Institutions
An employee on LinkedIn is likely to have connections with other individuals also in the same area of expertise and when they post an opening, their posts are probably to get more attraction and quality exposure.
If you're entering LinkedIn with sales targets in mind, stop right now, and hop on Instagram instead. LinkedIn is more about building real connections, offering genuine advice, and leaving a memorable impact so that when people really need your service, your name pops up first in their minds.
6. Leads Matter More Than Sales On LinkedIn
This is not a platform that people head over to, to buy trendy stuff, any sales decision concerns areas like career, and growth and therefore requires careful consideration which explains the lack of spur-of-the-moment purchases. This is why LinkedIn needs to be a very important part of your social media optimization strategy in 2023.
But with that being said, it doesn't imply that sales here are hard.
If you've given the right impression and focused on being resourceful people are going to buy from you when it's the right time for them.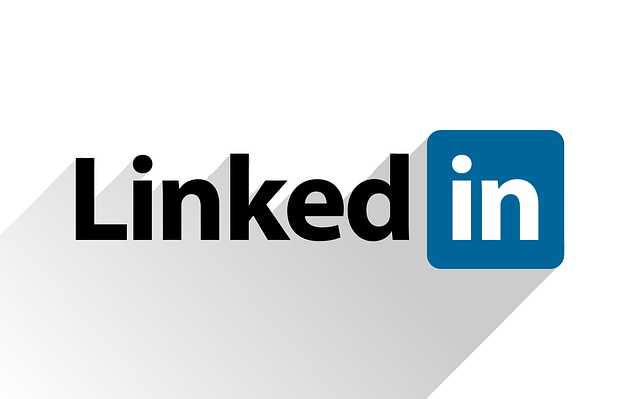 7. Employees Are Your Brand Ambassadors Here
Your employees can be your greatest asset or your biggest liability.
The way they conduct themselves reflects on your brand image directly.
If your employees can carry out your organization's core message successfully here and mirror an opportunistic environment that motivates the cream crowd to be a part of your team, it makes recruitment a cakewalk.
However, the opposite is true too, if your employees aren't happy being a part of your company and they let some grave loopholes out in the open it is surely going to backfire and make potential candidates run away.
8. Participate
Stating the obvious, LinkedIn is a social platform and it calls for your participation.
So make sure that you respond to comments, congratulate your connections on their achievements and career moves, show support and offer genuine help when you can, as it's a small world, and you never when you'll run into someone.
9. Be Generous With Your Posts Sometimes
Though your regular updates can be around 25 words, you might want to break the rut and surprise your audience with some occasional longer posts.
Though LinkedIn suggests your word count to be around 500-1000 words, it's totally okay to go a bit overboard on the word count for as long as you can ensure its value. But again you will have to try out and see what works the best for your audience and go with what works.
LinkedIn is adding SEO titles, descriptions, and tags to articles that will help your content become more easily discoverable.
And if you're into sharing long-form content regularly consider trying out LinkedIn Newsletter.
10. Experiment
At first look, text content may seem to rule on LinkedIn but its audience gets even more jazzed up on images, videos, and lives.
Here are the specific stats for you:
– Images have a 2 times higher rate of getting comments and collages get even more attention.
– Video gets 5 times more engagement and things can get 24 times crazier on live videos.
Yet experimenting remains the key. Though you might be good at a specific content format, it's no harm in trying out different formats too and if you haven't tried videos yet, you're missing out on something big.
11. Work On Creating Content That Is A Thumb-stopper
Grabbing attention on LinkedIn can be a hard nut to crack, considering most people are there for a reason most of the time, making it hard to stop and engage with random posts, but if you've got something quite novel or just interesting to say that forces them to stop their thumbs you're halfway there.
Though building these posts can be challenging and not exactly feasible regularly, they surely are worth the time and effort as they make you discover them.
12. Timings Matter
Though the perfect time to post may vary from brand to brand and individual to individual, it has been observed that 9 a.m. on Tuesdays and Wednesdays does fairly well for everyone.
So if you're just starting and are confused about the timings bit, try using these timings for starters and then tweak according to the response you get. Again experimenting is something that answers the best here.
13. Scheduling Can Be A Lifesaver
Once you've figured out what is the ideal time for you to post, you may also discover that what's ideal for your audience may not always be ideal for you and vice-versa which makes scheduling a lifesaver.
Moreover, this allows you to build a specific routine and assign dedicated time blocks towards curating quality content instead of posting random unrelated stuff.
Additionally, it will also help you strategize your other social activities through your LinkedIn activities.
14. Personalize Your Messages
Bulk messaging seems to be the logical choice when trying to reach out to the masses but it doesn't get the mass attraction in return. LinkedIn reported that messages sent individually get 15% more responses than messages sent in bulk.
You can even take it a step ahead by mentioning key details in the message that indicate that you have gone through the individual's profile.
Try mentioning the key competencies that are required for the role that you're recruiting for. Mention something that you found to be particularly interesting in their bio or talk about a post that intrigued you.

15. Keep It Short And Sweet
When you're sending your first message to a potential connection, candidate, or collaborator you might be tempted to pack in all the details of your offering to build credibility and appear authentic. However, LinkedIn reports that shorter and to-the-point InMails stand a higher chance of getting a response.
Messages around 800 characters tend to have decent responses but those who keep it under 400 characters get the most reverts.
Though 90% of those recruiting via this platform take messages of more than 400 characters keep them concise.
So the takeaway here is to keep it precise, crisp, and clear.
Twitter Marketing In 2023
Now that we've covered LinkedIn marketing in 2023, let's now move on to Twitter.
The way to achieve success on Twitter is similar to how you do it on other platforms.
Keep in mind winning on Twitter will have more to do than just regularly tweeting. The platform offers a wide variety of tools that help you make the most out of it. You might want to use all the features right away, as it would be ideal to use the ones that'll help you with your current campaign, but it's good to know what exactly they can help you with so that when you need them you can leverage them.
So let's dive into Twitter's Toolbox:
1. Twitter Trends
Twitter as a platform is highly sensitive when it comes to trends. Twitter seems to catch on to trends pretty quickly and once it identifies them, it gets the word out to more users who find out trends under the "trending topic".
This tool is highly useful for a marketer who wants to start up a conversation but is scratching their head = wondering what to talk about.
One of the cheats to getting noticed on any platform and especially on Twitter is to be relevant at the moment. And Twitter trends literally spoon-feed you with stuff that is all the rage right now.
Additionally, the platform also lets you know the topics that were trending a while ago but have reached their peak and are now fading out which stops you from wasting time and energy on things that no longer matter.
2. Twitter Circles
Everyone online wants to be a part of a group or circle of like-minded individuals or people who have something in common. On Twitter, these groups are called "circles" and allow you to create a small audience of your choice.
Only people in your circle can see the content and engage with those tweets.
3. Twitter Communities
Quite like Discord and Facebook Groups, Twitter communities are a larger form of Twitter circles where you connect with similar interests and share content that is collectively enjoyed by the members.
But use this feature to build genuine connections and leads and not sales as it is going to backfire.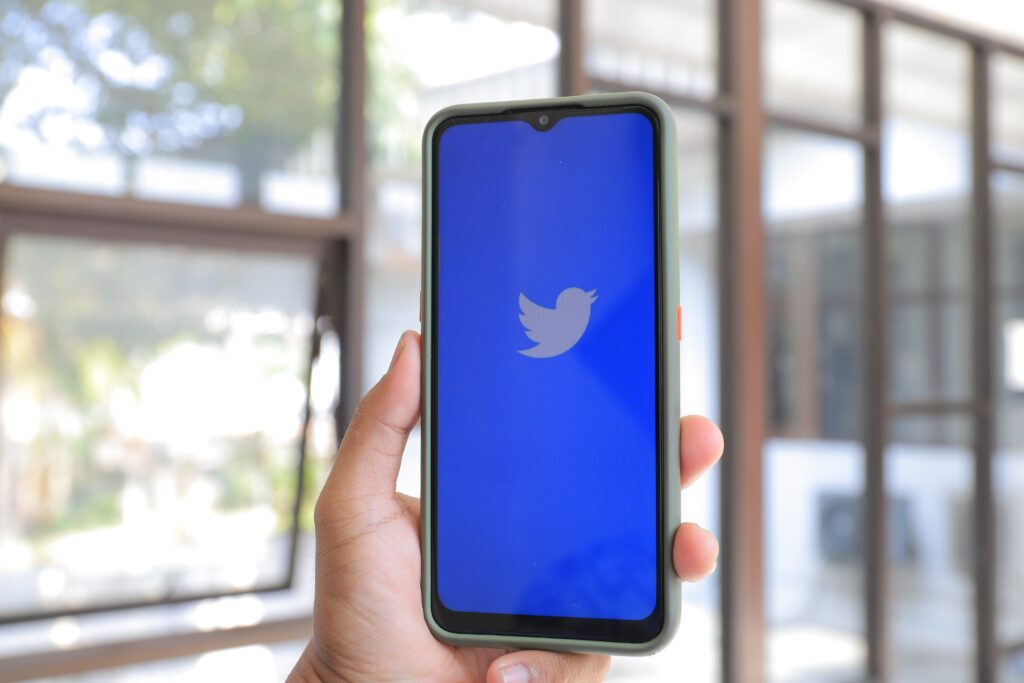 4. Twitter Spaces
Twitter spaces is another cool feature of Twitter that allows you to have live audio chats with people, it is quite similar to Clubhouse.
Twitter spaces are great for hosting Q&As, AMAs, or in general just catching up with your audience in real-time when they're available.
5. Twitter Lists
Twitter can be overwhelming which can prevent people from opening the app and finding stuff that they're looking for.
Twitter totally gets this and has a list feature that allows you to niche down to the things that really matter to you and your business.
The list consolidates feeds from accounts that help your business and enables you to be a part of important conversations.
Twitter allows you to make n number of lists which unlike the main feed shows tweets chronologically which makes catching up to whatever is happening a lot easier.
You can make a list of your competitors, mentors, and ideas that inspire you, literally anything but one head up is to be cautious while naming them as they'll be public, and you don't want to run yourself in trouble or face any of that crazy Twitter music.
Making a list can be slightly time taking but considering the experience lists provide it's totally worth it as it helps you judiciously utilize what Twitter has to offer.
So this was it on the latest updates, trends, and strategies that'll help you reach your goals and grow in 2023.
Hope you have an amazing year ahead, and that you use the opportunity of social media and make the most out of it while it's here.
Features That Twitter Is Working On But Are Not Likely To Become Active By 2023
1. Twitter Pixels
2. Website Conversion Optimization
3. Dynamic product ads
4. Collection ads

Twitter Features to Watch Out For This Year:
How can they impact your Twitter strategy for 2023? Only you can answer that.
1. View counts for Tweets
Twitter will now have view counts that were previously available for videos now for tweets as well which will increase transparency and help people identify topics that are getting popular.
This will also make the platform more lively and entice people to check out this platform as this feature isn't available on any other platform as of now.
Using this feature, brands will also be able to track their inactive users and tweak their strategies to enhance their engagement.
2. Twitter Blue for Business
Twitter blue will allow brands to create a private network on Twitter using which companies can link affiliated accounts, including leaders, department heads, employees, and affiliates.
Once a business account claims a personal account as an affiliate, it will receive a new batch and a verified blue tick.
This feature will be available to selected businesses for starters.
This will probably be a part of their paid features and will require a subscription, like the Twitter gold checkmarks.
3. Verified users can post hour-long videos:
Twitter has a new update exclusively for its Blue Users who can now post videos up to an hour long at 1080p.
Moreover, the Blue Subscribers will also rank higher in search results and conversations and will get 50% fewer ads on their feed.
To sum up, Twitter is going to be one of the platforms to watch out for in 2023 considering how it is rebuilding this platform to bring it into the mainstream along with popular social media platforms. Makes sure that you put a special emphasis on the platform while making a social media strategy in 2023.
These efforts are surely getting eyeballs, but will they get Twitter the subscribers and attention like that of popular mostly visual platforms like Instagram?
Well, that is something that only time can tell.
YouTube Marketing In 2023
From the latest episode of YouTube's official trends podcasts, it has been predicted that Travel and AI-generated content will seemingly dominate the platform in 2023.
1) AI-generated content
The rise of AI technology has made content creation, a piece of cake. What used to take hours of recording, editing, and revising, now happens in just a few clicks.
Yes, that's how simple AI has made video making, you can get AI to write an original script, record a voiceover, and even make a video for you by feeding in the script that AI wrote for you into another AI tool that'll create a video for you, and even club all three (captions, voice-over and video) and export it directly to YouTube with the right keywords and title.
2) Mr. Beast's Ideology Reversed
Mr. Beast, as you all may know, is one of the most famous YouTube creators out there and known for his crazy challenges with huge hefty prizes, huge budgets, intense planning, and resources, which often also involved collaborations with other creators.
However, in recent times there's been an evident shift towards minimalism and creating content with the least amount of resources available. Last year, a video of a creator attempting to live off just a penny a day went viral.
This type of content is novel and interesting, especially given the current context, where minimalism and sustainability are all the fade, and people are genuinely keen on this topic.
3) Hotel and Travel Content
As the COVID pandemic subsides, not only YouTube but various social media platforms have seen a resurgence in travel-related content. People trying out new vacation spots, and hotels, giving honest reviews, and advice, and comparing price points are going to be trending again as people are again looking for travel inspiration to make the most out of their downtime.
Facebook Marketing In 2023
Facebook is one of the most important platforms that you need to focus on in 2023. These are 4 key trends that are likely to influence the platform organically as well as on the paid side of things in 2023:
1. Video Ads
The impact of video has swept all social media platforms and Facebook is no exception.
Video-enabled ads allow brands to showcase their assets and portray the purpose and image of their brand in a way texts can't. Moreover, the storytelling that can be incorporated into video ads tends to make the deals seem more.
Adding to that, Facebook too recognizes the power of video and has invested heavily in it, considering Facebook reels are now present in more than 150 countries and it has become the second video giant next to YouTube.
Lastly, more on more brands are now channelizing their efforts towards creating more powerful and engaging videos, which will further increase the competition in the video landscape on Facebook.
2. Short Form Video Type
Shortform videos came into the picture with vine, and TikTok has further leveraged it, and now most platforms are following the fad, making short-form content an integral part of every social media platform, shaping this format to become the default version of every platform.
It may come as a surprise but according to stats, Facebook actually beats TikTok when it comes to video consumption.
3. TikTokification
All platforms have got a lot to learn from TikTok, an absolute newbie who came onto the scenes and stole the show from giant stars like Facebook and Instagram.
TikTok comes out as a global trendsetter. and influencer-style direct-to-camera videos were born on TikTok and seem to have taken over all other platforms as well.
So, do make sure you're trying on this video content format that instantly captures attention.

4. The Rise of Shoppable Ads
Facebook Shops started in 2020 allowing businesses to showcase and sell their products directly via Instagram and Facebook apps. Since then Facebook has been working on developing new social selling solutions. Facebook's new Advanced Shopping ads help brands to test variations in their creatives and drive conversions through fully automated campaigns.
Taking into account, the platform's popularity and the ease of shopping on Facebook having an efficient and optimized Facebook Shopping presence will be critical in 2023.
Want to learn more about social media marketing, consider learning digital marketing from scratch so you can take your career to next level. Here are some resources that you can use to learn digital marketing in 2023.
Scope Of Digital Marketing In 2023
What Is Social Media Marketing
New to the world of digital marketing? Consider joining our live digital marketing training program. With a dynamic course curriculum and a simultaneous internship, we will help you take your digital marketing career to next level.